The Cost of Having Illegal Workers in Australia
What are the offences?
There are four offences for businesses who are found to be in breach of the Employer Sanctions Legislation:
1. Allowing, or continuing to allow an unlawful non-citizen to work
2. Allowing, or continuing to allow a non-citizen to work in breach of a work-related
visa condition
3. Referring an unlawful non-citizen to work
4. Referring a non-citizen to work in breach of a work-related visa condition.
What are the penalties?
The Government can issue penalties and Infringement notices to businesses found to have employees working without the correct work rights in Australia.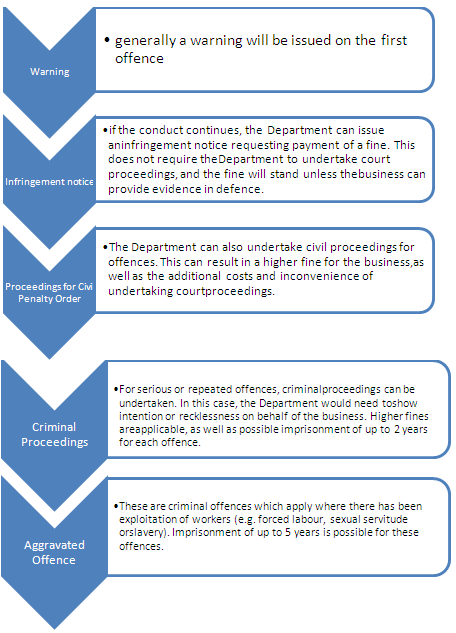 How can you avoid penalties?
If Immigration detects a person working illegally, a business would need to establish one of the statutory defences to avoid civil penalties.
The business will need to show that it has taken "reasonable steps" at "reasonable times" to verify the person's work rights. "Reasonable Steps" could include:
Using a computer system prescribed by Migration Regulations to verify visa conditions before work and shortly after the expiry of the visa
Creating a contractual obligation for another party to verify the person's work rights
Viewing a passport visa label showing evidence of a permanent visa or temporary visa with work rights
Viewing what appears to be an Australian passport.
Many employers do check visa labels in passports prior to employing people. This may confirm that a person has a visa when they start work. However, circumstances may well change after a person commences work, for instance:
The person's visa may expire
The person may have a bridging visa – if the application is refused, the person
may no longer have work rights.
The person may obtain a further visa, which has reduced or no work rights
The person's visa may be cancelled for breach of visa conditions.
With Australian Government's Immigration system changing to be 100% online, not many people will have visa labels in their passport anymore.
Unless the employer is checking the visa status of their employees regularly, there is no way for them to know whether these have occurred and they may unknowingly be committing an offence by continuing to employ the person.
Need Help?
Request a vSure demo to find out how vSure can help your business.