Does Your Recruitment Strategy Protect You From Penalties?
Employing people without the correct visa status in Australia is a serious problem and prevalent in political discourse.  The Employer Sanctions Legislation has made it clear that businesses and individuals who are found to have illegal workers will receive serious penalties.
So what happens if you use a recruitment company for your hiring processes?
What happens if the employee they have referred to you does not have the right work rights to work legally in Australia?
The recruitment company made the mistake, so your business should be protected, right?
Wrong.
It is important to know and understand how the Employer Sanctions Legislation works so you and your business do not receive hefty penalties.  Without substantial proof that the proper visa checks were performed before and during employment of the illegal individual;
Employers may be fined even though they are not aware that people are working illegally.
If someone does not have the right visa under your watch, you and your business are at fault.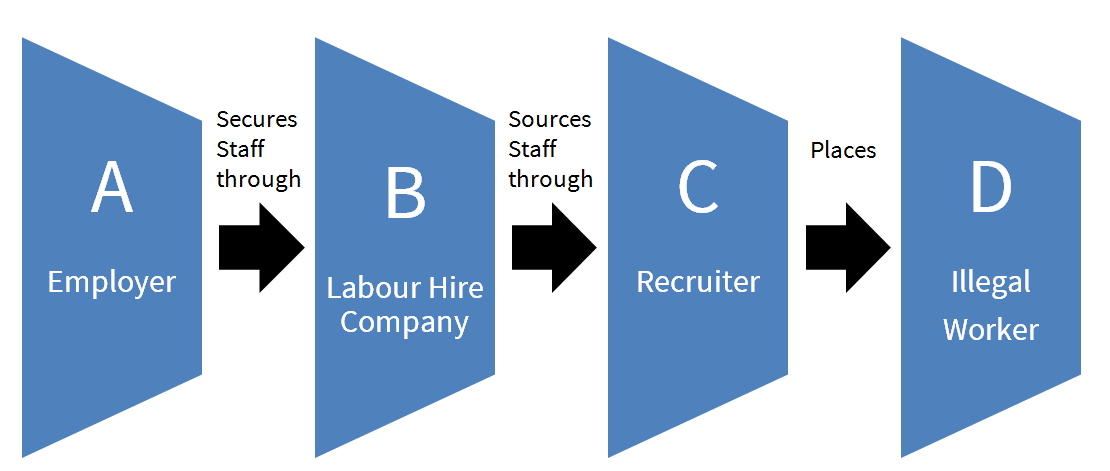 Recruitment companies can also receive penalties for referring individuals without the correct work rights in Australia.
Recruiters must check each time they refer a candidate to a business.
So What Can Your Recruiter and Your Business Do to Keep Protected?
Recruitment companies are a fantastic way of streamlining your hiring processes in your business, but you need to make sure that they are compliant with the new legislation so you are not put in a sticky situation.
Recruiters must check each time they refer a candidate to a business.
Employers must check the visa status of their employees before and during their employment
Collect passport ID page prior to employment
Check VEVO before employment
Check VEVO around visa expiry
For bridging visas, check more regularly
Keep records
Is there an easier way?
To save you time, stress and money, you can let vSure do all the hard work for you.
vSure is an immigration compliance package for businesses
Check your entire workforce with a single click
Automated checks every month alert you about any problems
Contact us today if you would like to hear how vSure can help you make visa checks easy.