Hiring Temporary Visa Holders in Australia – How to Avoid the Pitfalls
As of 30 June 2013, there were approximately 1.67 million "temporary entrants" in Australia. This includes temporary visa holders such as 457 visas, student visas, working holiday visas, and also holders of bridging visas.
Whilst figures are not published on them, we also estimate that there are approximately 138,000 holders of provisional visas in Australia – these are temporary visas which lead to permanent residence such as partner visas, regional skilled visas and business innovation & investment visas.
On top of this, the Department of Home Affairs estimates that there are a further 53,900 people who are in Australia with no valid visa at all (referred to as "Overstayers").
The current Australian workforce is approximately 11.6 million. Temporary and provisional visa holders make up a significant proportion of the working population possibly approaching 15%.
With the introduction of the Employer Sanctions Act in June 2013, employers need to be vigilant to ensure that all staff have appropriate work rights.
The table below summarises the number of temporary, provisional and bridging visa holders in Australia: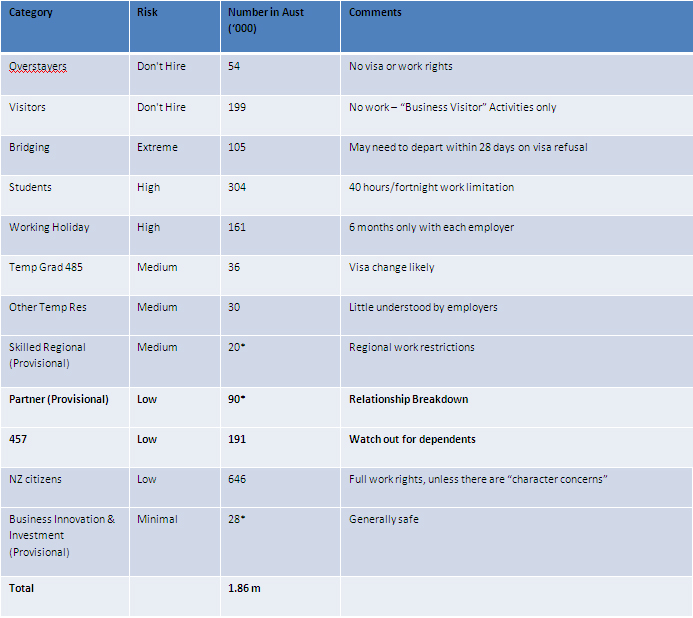 * Estimate based on Migration Program Statistics
Issues Employers Need to Be Aware of when Hiring Temporary Residents
There are a number of issues that employers need to be aware of when it comes to employing temporary visa holders. In particular:
Temporary visas generally have a fixed expiry date – employers should track visa expiry dates to ensure that visa holders do not continue to work after expiry of their visas
Work restrictions often apply to temporary visas – as a result some visa holders cannot work full time, can only work in certain regional areas, or perform work as specified in the visa application
Temporary visas are subject to cancellation if the visa holder does not comply with visa conditions
Temporary visa holders have a tendency to apply for further stay in Australia – this may result in the person holding a bridging visa for a time, or possibly moving onto a visa with less favourable work rights.
Below are specific issues which employers need to be aware of for each type of visa which may be held by a worker.
Overstayers
Overstayers or "Unlawful Non-citizens" are people who do not have a valid visa. Most would have arrived in Australia on a valid visa, but this may have ceased because:
The person has stayed on beyond the period of stay allowed on the visa; or
The visa has been cancelled because the holder did not comply with visa conditions
Most overstayers work in Australia – the Department of Home Affairs estimates that there are approximately 100,000 people working in Australia with no visa or with a visa with no work rights. Many employers assume because a person has been in Australia for a long time that they are a citizen – unfortunately, this is not always a safe assumption and overstayers get very good at covering their tracks and obtaining documents which appear to show that they are permanent residents (eg drivers licence, Medicare card, credit cards).
It is an offence under the Migration Act for an employer to engage an unlawful non-citizen for work in Australia, whether directly or through a contractor arrangement.
Employers should implement processes to screen all employees prior to hiring.
Visitors
There are a large number of visitors in Australia at any time – the period of stay can be anything from 3 to 12 months. Passport holders from Europe, North America and East Asia can obtain electronic visitor visas relatively easily.
Visitors can engage in "business visitor activities" – this covers negotiation of contracts, exploring employment opportunities, training and conducting business research.
Some employers have been in the habit of bringing staff to Australia as "business visitors" and have them work on projects in Australia.
Due to changes in March 2013, this is no longer an acceptable use of a visitor visa. Employers need to be aware that it is not possible for visitor visa holders to engage in work in Australia, and putting them on the Australian payroll is definitely not on.
Bridging Visa Holders
A bridging visa can be issued when a person is in Australia on Visa A and applies for Visa B to allow them to stay on in Australia. The bridging visa comes into effect if Visa A expires during processing of the application for Visa B. A common example is a Working Holiday visa holder applying for a 457 visa towards the end of their Working Holiday.
The bridging visa allows the person to remain legally in Australia during processing, and often has work rights on it. The main issues with bridging visas are:
If the application for Visa B is refused, the person will generally need to depart Australia within 28 days; and
Bridging visas are very technical, and it's easy for a bridging visa holder to accidentally lose their bridging visa (eg by departing Australia and forgetting to reinstate their bridging visa when they return)
There are a surprisingly high number of bridging visa holders in Australia at any time – as of 30 June 2013, there were 105,000 bridging visa holders in Australia.
It is safe for employers to hire workers on a bridging visa providing:
They regularly check the employee's visa status
They are careful to check any work restrictions which apply on the bridging visa
Students
There are a large number of international students in Australia at any time (as of 30 June, there were 305,000).
Students generally have restricted work rights in Australia. Work rights commence once the student commences studies in Australia. Primary visa holders can work 40 hours per fortnight  – but during semester break, they can work full time. They can also work full time after completion of their course, with somewhat of a grey area if they complete their studies early. Family members of the primary visa holder can generally work 40 hours per fortnight – whether the course is in session or not. If the student is completing a PhD or Masters Degree in Australia, family members can work full time.
The main issues in hiring students are:
Employers need to ensure that the 40 hours per fortnight work restriction is not exceeded
Student visas are often cancelled due to non-compliance with visa conditions
Students often apply for further visas which may have different work rights (eg General Skilled Migration or visitor visas)
Employers should check the visa status of student visa holders regularly, and keep a close watch on hours worked each fortnight.
Working Holiday Makers
Working Holiday Visas (and their close relative Work and Holiday Visas) allow the holder to stay in Australia for 12 months, during which time they can work full time.
The number of Working Holiday Makers in Australia rose by close to 18% last year, and as of 30 June 2013 stood at 161,000.
The primary purpose of stay should be to visit Australia for tourism purposes, with some incidental work to support themselves in Australia. Situations where an employer brings  large numbers of working holiday makers to Australia to fill an ongoing role are definitely frowned upon.
The main issue encountered with Working Holiday Visas is the 6-month work restriction 8547. This restriction allows the holder to work for an employer for a maximum of 6 months. The condition can operate in a complex way:
If the holder gets a second working holiday visa by doing 3 months of regional work, they get a second 6 month work period with the employer
Similarly if they move onto a bridging visa after their working holiday visa expires, they get another 6 months with the employer
Many employers look at sponsoring working holiday makers for 457 visas. However, they often leave it until the end of 6 month limitation. Often the working holiday maker has to cease employment to avoid breaching the 8547 work condition
The 6-month restriction can be waived, but this is in general so time consuming that it is better to look at simply applying for a 457 or other work visa
Working holiday makers also have a tendency to move onto a further temporary visa. Often the further visa is a student visa, which has less favourable work rights, and so employers should be alert to this possibility.
Temporary Graduate Subclass 485 Visas
Temporary Graduate are for international students who have completed a course taking at least 2 years of study in Australia.
The validity period is generally 18 months or 2 years, but could be up to 4 years for students completing a PhD.
Temporary Graduate visa holders have full work rights in Australia, as do their family members. They also have full work rights on the bridging visa held whilst awaiting a decision on their Temporary Graduate application – as processing time can be 12 months or more, this can be quite favourable.
Towards the end of their Temporary Graduate visa, many students will look at applying for a permanent visa or a 457 visa. If neither of these is possible, they may even go back to a student visa.
Whilst it is relatively safe to employer Temporary Graduate visa holders, employers need to be aware that the student may hold a bridging visa and/or change visa type during employment.
Other Temp Residents
There are a range of visas included in this category, many of which are rarely encountered by employers. Examples include:
Business (Short Stay Activity) Subclass 400: a visa allowing highly specialised work in Australia of up to 6 weeks duration
Business (Long Stay Activity) Subclass 401: allows stay of up to 2 years in Australia, and covers a range of people including sportspeople, religious workers, and exchanges within a group of companies
Training and Research Subclass 402: stay of up to 2 years, and includes occupational trainees, visiting academics and professional development exchanges
Temporary Work (Entertainment) Subclass 420: for staff engaged in film, TV and theatrical productions in Australia
The above are just a sample of the visas covered in this category.
Employment is generally relatively safe, but employers should be aware of the following:
Family members generally have full work rights, but in some cases they do not (eg in the case of occupational trainees)
Visa conditions vary depending on the type of visa – generally, the work must be consistent with the purpose of the visit as stated in the visa application
Visa duration also varies widely, and in most cases is 12 months or less
Skilled Regional (Provisional)
There are a number of provisional general skilled migration visas. These have changed frequently over the last few years and could be valid for either 3 years or 4 years. All give full time work rights, but require the visa holder to work and live only in a regional area of Australia. Family members have the same work rights as the main visa holder.
The visas require sponsorship by either a relative or a state/territory government – where the person can live and work depends on the type of sponsorship:
Relative: condition 8549 applies, restricting the holder to Designated Areas. This includes the whole of Australia, apart from Sydney, Newcastle, Wollongong and Brisbane.
State/Territory Government:   condition 8539 applies, restricting the holder to Regional or Low Population Growth Areas. This includes the whole of Australia, apart from Sydney, Newcastle, Wollongong, ACT, Gold Coast, Brisbane and Melbourne.
Employers should not rely on the visa holders assertions about where they are allowed to work – it is important that employers verify which of the above conditions apply. It is not unknown for both of the above conditions to be applied in error to a visa.
Partner (Provisional)
Australian citizens and permanent residents can sponsor their spouses, defacto partners and fiancés for visas to live in Australia. These visas give full work rights to the main applicant and any family members.
Partner migration leads to permanent residence in a 2-stage process:
Provisional Partner Visa: generally a provisional visa is granted first – this allows the partner to live and work in Australia
Permanent Partner Visa: 2 years after the initial application, a permanent visa is granted providing the relationship has not broken down.
It is safe to hire people holding provisional partner visas. If the relationship with the Australian sponsor breaks down before the permanent visa is granted, there can be an issue. In most cases, this would result in refusal of the permanent partner visa, and the provisional partner visa would cease within 28 days.
If the employee does not notify the employer, the only way that the employer would know this has happened is if visa status for staff is checked regularly.
457
Most employers are familiar with the 457 visa – this is a visa valid for up to 4 years, and requires sponsorship by an employer. Employers should keep records of 457 visa expiry dates, and ensure that they comply with sponsorship obligations (eg training and notifying changes of circumstances).
Whilst this is the visa category employers tend to be most familiar with, it represents only 10% of the total temporary visa holders in Australia.
As the employer initiates the 457 process, they generally have full information about visa expiry dates and conditions.
Where things can get complex is where a dependent family member holding a 457 visa is hired. Dependent family members have full work rights. However, their 457 visa may be subject to cancellation if:
 The relationship with the main 457 holder breaks down; or
The main 457 visa holder loses their job or resigns.
Employers may wish to regularly check the status of 457 visa holders to ensure that they are aware of any changes to visa status.
NZ citizens
New Zealand citizens represent the largest single group of temporary residents living in Australia (640,000 as of 30 June 2013). New Zealanders generally receive a Special Category Subclass 444 visa on arrival to Australia. This gives them full work rights in Australia, and allows them to remain indefinitely in Australia. They can receive certain government benefits (eg Medicare) whilst in  Australia, but are not in general considered permanent residents or eligible for Australian citizenship unless they have arrived in Australia prior to 26 February 2001.
New Zealanders lose their 444 visa if they are convicted of an offence leading to a term of imprisonment of at least 12 months.
As part of the employment screening process, we recommend that the visa status of New Zealanders is checked using VEVO to ensure that the 444 visa is in place.
Business Innovation & Investment (Provisional)
These are 4-year provisional visas which are intended to allow the primary visa holder to establish business interests in Australia and so qualify for permanent residence in Australia.
Generally, visa holders would be looking at investing in Australia or starting a business here, and so would not seek employment. However, this is not unheard of and employers should ensure that work is not inconsistent with any work conditions on the visa.
Conclusion
Australian employers are highly reliant on temporary visa holders to operate their businesses. Such visa holders represent a high proportion of the Australian workforce.
Significant penalties apply for employers who engage workers in breach of visa conditions.
At a minimum, employers should check immigration status and visa conditions prior to hiring staff. They may also wish to check during employment as some visa types (particularly bridging visas and student visas) may be subject to change during employment.
vSure is an automated visa checking system which makes conducting visa checks and keeping records simple, typically for people with more than 10 foreign workers . Please contact us to talk about how vSure can protect your business, and arrange a trial. (if you have less than 10, you can use our Instant Check for quick, easy employee work rights checks – no demo required, just sign up and use today).
References
ABS Labour Force Australia: https://www.abs.gov.au/ausstats/[email protected]/mf/6202.0
Migration Program Statistics: https://www.immi.gov.au/media/statistics/statistical-info/visa-grants/migrant.htm
Temporary Entrants in Australia (Stock Data) Statistics: https://www.immi.gov.au/media/statistics/statistical-info/temp-entrants/
https://www.immi.gov.au/media/fact-sheets/86overstayers-and-other-unlawful-non-citizens.htm